Rusty's Custom Lumber & Landscaping Supplies

Rusty's Custom Lumber & Landscaping Supplies Services

Offering Limited Sawing at this time

Rusty's offer Bandmill Service with our

Woodmizer Sawmill LT70.

Bring your logs or log to our yard for just $650.00 per thousand board foot.

Minimum of $100.00

$50.00 a Blade if we hit anything and damage a blade.

Rusty's can work with you in many ways.

Custom Orders Welcome.

Shares on Select Jobs. 

Sawing Since 1984.

* All prices subject to change without notice

Insured

Residential and Commercial

*Rusty's offer select Logging of small and large acreage

*Rusty's can Clear Lots 

*Forestry Mulching 

*Rusty's can work with you in many ways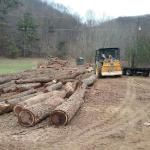 *Excavating and Grading 

Driveways, Basement's, Lot clearing, etc.

*Post Driving 

*Rock, Asphalt and Concert removing 

*Seasoned Firewood

*Rough sawn lumber- White Pine, Poplar, Cherry, Walnut, White and Red Oak…

Give us a call and let us see if we can help you in your next project.